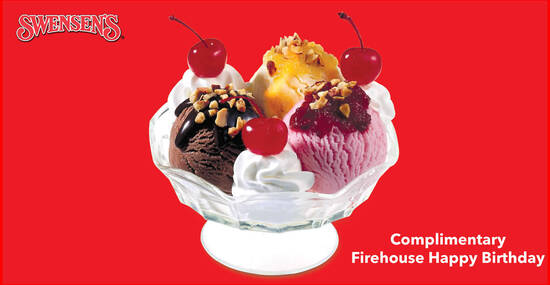 Complimentary Firehouse Happy Birthday For Cool Rewards Members
Make it extra special with a complimentary Firehouse Happy Birthday Sundae on your birthday!*
A complete birthday treat with Vanilla, Chocolate and Strawberry ice cream, topped with strawberry, pineapple and chocolate fudge toppings. Make your birthday wish over the firehouse flame!
Deal is valid only on your birthday.
Not a member yet? Download Swensen's mobile app and join Cool Rewards for free. Download from Google Play Store or Apple App Store
* Not valid for takeaway. Please present NRIC, passport or birth cert, (children) and eMembership card upon ordering. Cool Rewards Junior Membership applies to children of age 4 to 12 years only. Swensen's reserves the right to amend offer terms and conditions without prior notice.