Primary 1 (P1) Registration For Phase 1 Now Open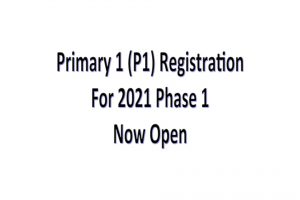 You can now prepare and register your child for Primary 1 (P1) through the Primary 1 (P1) registration process since the phase 1 Primary 1 registration is now opened. Learn about it and how to get started.
What is Primary 1 registration?
Primary 1 registration is a process to register your child for mainstream primary schools in the following year, 2022.
When is Primary 1 registration for 2022 starting?
The Phase 1 for Primary 1 registration started on 22 April 2020.
Where to register for Primary 1 for your kid in 2022?
You may register your kid for Primary 1 in 2021 at https://go.gov.sg/p1onlineform
When is the last day for Primary 1 registration for Phase 1 for 2022?
As of the time of writing, you have to submit your Primary 1 registration by 14 May 2021.

While primary school education is compulsory for all Singapore Citizens (SC), the P1 registration process is also applicable to Permanent Residents (PR) and international students.
Phase 1 registration is for a Singapore Citizen (SC) or Permanent Resident (PR) child born between 2 Jan 2015 and 1 Jan 2016 (both dates inclusive) and has a sibling studying in our school.
You might want to have a look at the Primary Schools in Bukit Panjang to have a better idea of the primary schools near you so that you would not end up choosing a primary school too far away from where you live in Bukit Panjang.
If you have a SC or PR child eligible for Phase 1, please submit the online form at https://go.gov.sg/p1onlineform by 14 May 2021. The school will contact you should additional clarifications and / or documents are required.
If your child is non-SC / non-PR and thus not eligible for Phase 1, please submit an online Indication of Interest between 1 Jun and 7 Jun 2021 at go.gov.sg/P1reg.
You may refer to the MOE website at go.gov.sg/P1reg for updates on the 2021 P1 Registration exercise.
You can find the list of Primary Schools in Bukit Panjang here for your reference.
Registration and Key Dates For Primary 1 registration in Singapore.
---
Primary Schools in Bukit Panjang
Secondary Schools in Bukit Panjang
---
Follow us on Facebook
---