Coastal PlayGrove Opens on The Former Big Splash Site in East Coast Park
Singapore's latest attraction Coastal PlayGrove Playground in East Coast Park opens on Sunday, on the former Big Splash site in East Coast Park which was redeveloped and opened with Singapore's Tallest Outdoor Play Feature.
The former iconic landmark, Big Splash site in East Coast Park has been redeveloped and opened by Emeeritus Senior Minister Goh Chok Tong, with an outdoor play feature that is touted as Singapore's tallest outdoor play feature on Sunday, 28 March 2021, as announced by the National Parks Board (NParks).
Redeveloped and opened as Coastal PlayGrove, this site is now home to a 4.5-hectare development with an outdoor play area, a water play area and complete with new retail and dining offerings, NParks said in a media release.
The new development now features a 16m-high Play Tower which is a reconstruction of the iconic Big Splash tower and it now houses an outdoor classroom by the sea for pre-schoolers and a new nature play garden.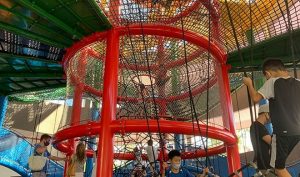 Plans were laid down by NPark to create a 15 km nature trail that spans through the entire length of East Coast Park according to the press release announcing the opening on Sunday by NParks.
'Coastal PlayGrove and the upcoming nature trail will offer more diverse recreational opportunities at East Coast Park, ranging from active play to tranquil nature-based interactions for families and the general public.
"This will help to redistribute crowds across Singapore's largest park,' added NParks.
Read more about Coastal PlayGrove in NPark's website.
Location of Coastal PlayGrove Playground in East Coast Park
Address: 902 ECP, Singapore 449874
---