Bukit Panjang And What You Need To Know About It
As Bukit Panjang is located among a range of hills in Singapore, hence Bukit Panjang literally means "long hill" in Malay. This town comes under the lead of of Holland – Bukit Panjang Town Council.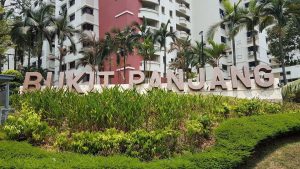 Bukit Panjang or Bt. Panjang, is a new town comprising of a mixture of old and new HDB apartments, condominiums and landed properties. The entire Bukit Panjang estate is bounded by the Bukit Timah expressway, Dairy Farm Road, Bukit Timah Road and the Kranji Expressway. It is also beside the Central Catchment Nature Reserve, encompassed by both the BKE and KJE expressways. Therefore the Bukit Panjang estate is excellently connected to the rest of Singapore. Click here for direction to Bukit Panjang New Town.
Roads in Bukit Panjang
The major roads in Bukit Panjang Estate are listed as follows:
Bangkit Road
Bukit Panjang Ring Road
Bukit Panjang Road
Cashew Crescent
Cashew Gardens
Cashew Road
Cashew Terrace
Chesnut Drive
Chestnut Ave
Fajar Road
Gangsa Road
Hazel Park Terrace
Jelapang Road
Jelebu Road
Lompang Road
Pending Road
Petir Road
Saujana Road
Segar Close
Segar Road
Senja Road
Senja Way
Transportation in Bukit Panjang
Living in the Bukit Panjang estate is a benefit for all its residents as it is very well connected to the rest of Singapore. As mentioned above, there are many major expressways like the Bukit Timah Expressways and the Kranji Expressway which allow drivers to get to any part of Singapore quickly and easily.
Public transportations like the Mass Rapid Transit (MRT), the bus services and Light Rail Transit (LRT) in Bukit Panjang are efficient means of transportation within the new town and to anywhere in Singapore.
There are three community centers serving the residents in Bukit Panjang. They are the Bukit Panjang Community Club, the Senja-Cashew Community Club and the Zhenghua Community Club. Other recreation activities can be found in the Warren Country and Golf Club and the nearby Civil Service Club @ Bukit Batok provide the Bukit Panjang residents with entertainment facilities, recreational activities and many more.
There is also the Bukit Panjang Community Library in Bukit Panjang Plaza (BPP) to cater to the Bukit Panjang's residents who love to read.
There are 3 main shopping malls, a number of heartland malls and many retail shops in the Bukit Panjang neighborhood to provide you with banking services, supermarkets, retail boutiques, supermarkets, cafes, restaurants and other entertainment options. The main shopping malls are Bukit Panjang Plaza, Hillion Mall and Junction 10 which offer a variety of shopping experiences and places to eat in Bukit Panjang. The heartland malls would include Fajar Shopping Centre, Greenridge Shopping Centre and Bangkit Shopping Centre. There are also a number  restaurants along Dairy Farm Road and Woodlands Road.
Parks in Bukit Panjang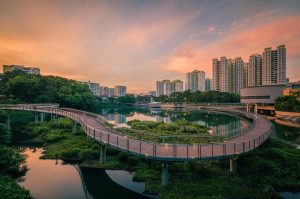 There are two main parks in the Bukit Panjang town; they are the Bukit Panjang Park and Zhenghua Park. You can find many cycling and jogging tracks which are very popular among cyclists and people who love to work out. There are also many playgrounds, and ponds (and the popular Pang Sua Pond) for you to relax and work out. For those nature lovers out there, the nearby Bukit Timah Nature Reserve (414 hectare) is sure to mesmerize with their beautiful scenery.
For more dining options to satisfy your taste buds, head down to the Bukit Panjang restaurants along Woodlands Road, Dairy Farm Road and Jelebu Road.
Supermarkets in Bukit Panjang
The nearest supermarkets are the 24-Hour NTUC Fairprice at Hillion Mall, 24-Hour NTUC Fairprice Senja Grand, Finest in Bukit Panjang Plaza, Sheng Siong Supermarket in Junction 10, Blk 547 Segar Rd, Blk 446 Fajar Rd and Prime Supermarket at Bangkit Shopping Center and .
Schools in Bukit Panjang
There are also many primary schools and secondary schools in Bukit Panjang for the school going children to further their educations. The Primary Schools In Bukit Panjang include Bukit Panjang Primary School, Greenridge Primary School, West View Primary School, Zheng Hua Primary School, and Beacon Primary School. The Secondary Schools in Bukit Panjang are Greenridge Secondary School, West Spring Secondary School, Zhenghua Secondary School and Fajar Secondary School. You can see access the maps here for the exact locations of Primary Schools in Bukit Panjang New Town and the locations of the Bukit Panjang Secondary Schools.
Tuition Centres in Bukit Panjang
One can find a number of good Tuition Centres in Bukit Panjang as well as Enrichment Centers spread across the entire town of Bukit Panjang. There are tuition centers and enrichment centers located in the Bangkit Heartland Mall, Fajar Heartland Mall, Greenridge Heartland Mall and even below some HDB blocks as well.
Teck Whye Tuition Centre (Bangkit Heartland Mall)
Address: 258 Bukit Panjang Ring Rd, Singapore 670258
Stepping Stones Study Centre (Fajar Heartland Mall)
Block 439 Fajar Road, #B1-428, Singapore 670439
The Initiative Learning Hub (Near Hillion Mall and Bukit Panjang Plaza)
Blk 171A Gangsa Rd #01-50 Singapore 671171
Bukit Panjang Tuition Class (Near Hillion Mall and Bukit Panjang Plaza)
Block 181, Jelebu Road, Singapore 670181
There are also a number of tutors tutoring either at the tutors' homes or the homes of their students.
Places Of Worship in Bukit Panjang
For places of worship in Bukit Panjang a part of this multi-racial and religion society, one can head to Chi Hock Keng Temple at 15 Fajar Road, An Le Temple at 11 Senja Road, Sri Murugan Hill Temple at 931 Upper Bukit Timah Road, Saint Joseph Church at 620 Upper Bukit Timah Road and Masjid Al-Iman Mosque at 10 Bukit Panjang Ring Road.
If you need any medical consultations in Bukit Panjang, you can head to the nearby general practitioner clinics, Choa Chu Kang Polyclinic, National University Hospital, Khoo Teck Huat Hospital and the Bukit Panjang Polyclinic which is currently under construction.
Bukit Panjang New town is definitely an easily accessible place equipped with many entertainment and recreational facilities to fulfil your every need.
How To Go To Bukit Panjang
---
Did you know?
1. Previously Bukit Panjang was initially known as Zhenghua however it was not very well accepted by the public. It was then recalled Bukit Panjang. However the park in Bukit Panjang is still called Zhenghua Park.
2. Bukit Panjang LRT rail station was the first LRT system built in Singapore. Currently the LRT system is a loop system running through Choa Chu kang, South View , Keat Hong, Teck Whye, Phoenix, Bukit Panjang , Senja , Segar , Fajar, Bangkit , Pending and Petir stations.
3.Bukit Timah Turf Club was built in 1933. During Japanese occupation, it ceased operation and only restarted the races in the 1960s. Queen Elizabeth II with her husband Prince Philip visited Bukit Timah racecourse back in 1972. It is relocated to Kranji in 2000 as Bukit Timah is a prime area for private housing development.Bukit Timah hill at a height of 16.3 meters is Singapore's tallest hill. Bukit Timah reserve covers an area of 16.4square kilometers and is bounded by MacRitchie Reservoir, Upper and Lower Peirce Reservoir and Upper Seletar Reservoir. One of Singapore's oldest trees, Shorea Curtisii trees have existed here for almost 400 years.
4.Bukit Timah area used to be infested by tigers back in the 19th century. Hunting of the tigers and leopards as well as clearing of the forest led to their extinction by 1930.
5.Hindhede Nature Park in Bukit Timah used to be a quarry for granite until mid of 20th century when all the granites are exhausted.
6.Bukit Timah used to be industrial estates until the 60s whereby the industrial developments are moved to Jurong and Bukit Timah turned into a prestigious private residential estate district 11.
Find out more about the Bukit Panjang Town or follow us in BukitPanjanginSG on Facebook.