Authorities in Bukit Panjang are taking decisive action to prevent wild boar attacks following recent incidents that left two residents injured. The National Parks Board (NParks) has announced plans to implement additional measures, including the installation of more fences and the use of new cattle grids in Zhenghua Nature Park, with the aim of keeping wild boars out of residential areas. These efforts are in addition to existing strategies such as culling.
Unlike traditional gates, the cattle grids will be embedded in the ground at specific intervals between the fences. These grids, which consist of grates with intentional gaps, are designed to allow unobstructed access for park users and cyclists. However, should the boars attempt to cross, their hooves will become caught in the gaps, preventing them from entering residential areas.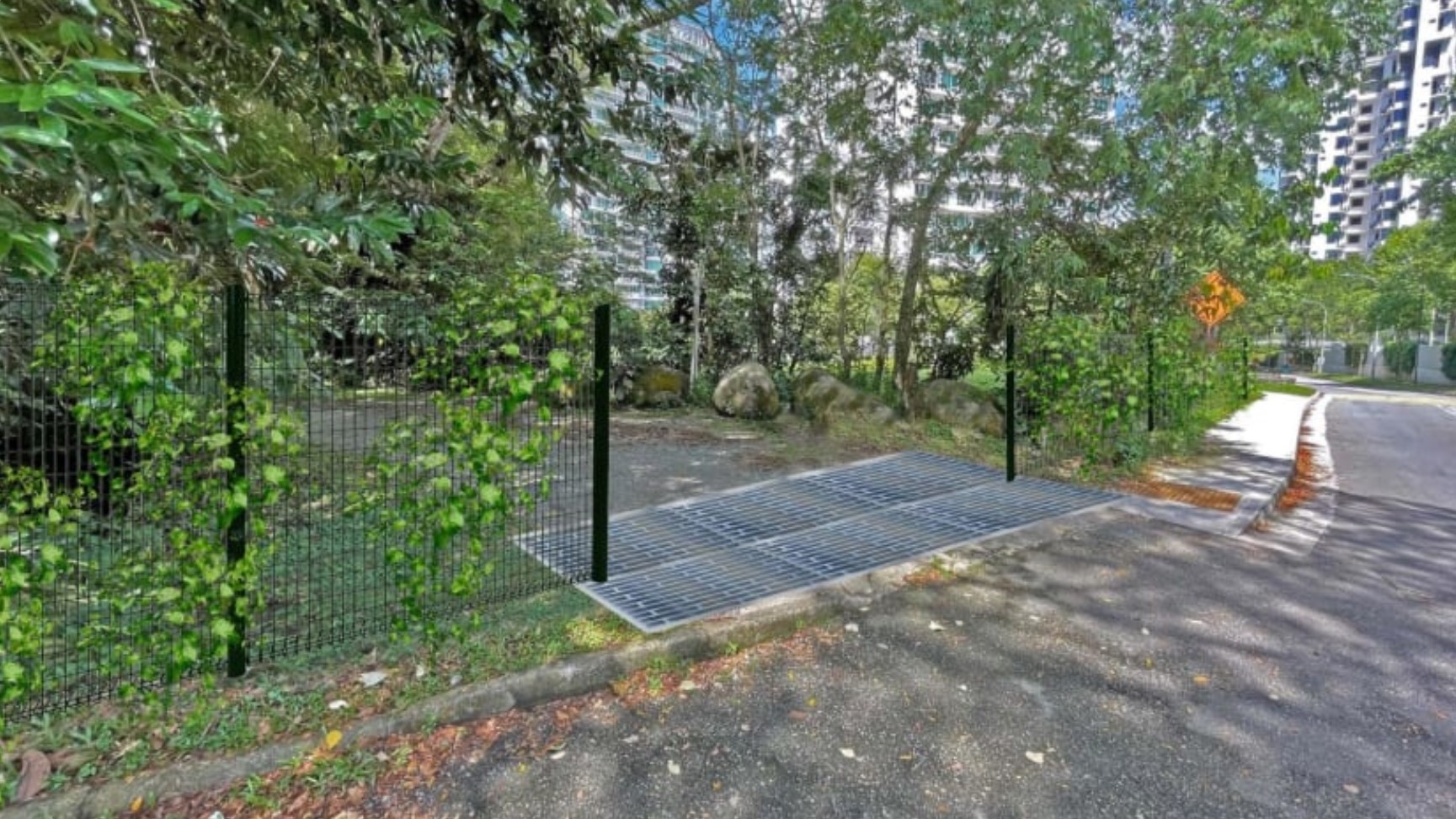 During a recent visit to Zhenghua Nature Park, members of the media were shown one of the newly installed cattle grids located at the Bangkit underpass, which leads towards Chestnut Nature Park. This grid was completed on the same day and showcased the practical application of this prevention measure. Furthermore, another cattle grid and 150 meters of fencing will be set up along Chestnut Avenue, while a 400-meter stretch beneath the Gali Batu Flyover will be fenced off. The installation at Chestnut Avenue is expected to be finished by July, while the fencing beneath Gali Batu Flyover is slated for completion by the end of August.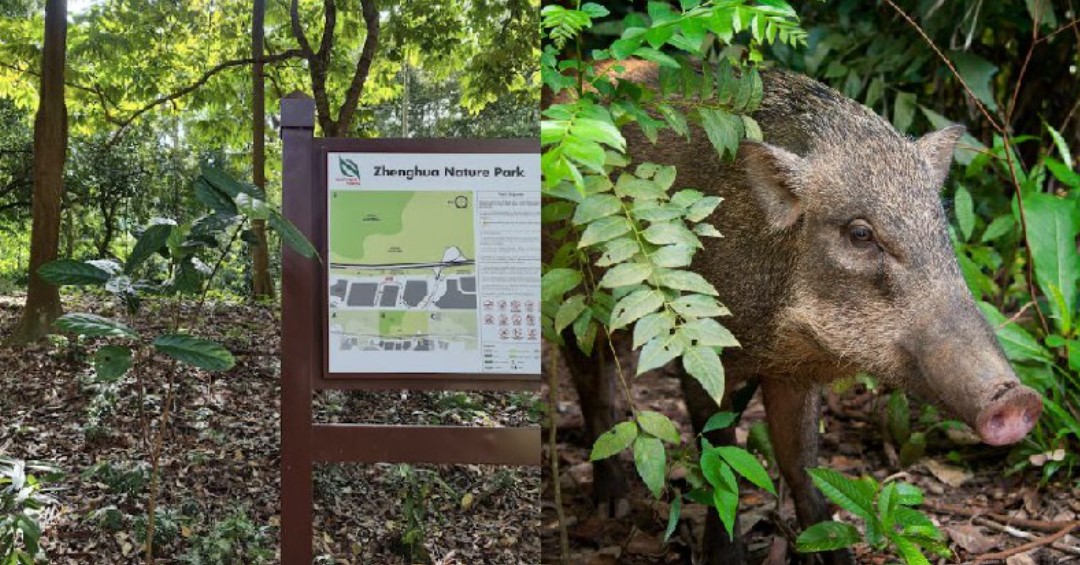 These new measures complement the existing exclusion fencing that has been in place in the park since 2020. Additionally, approximately 50 wild boars have been culled in Zhenghua Nature Park since 2019 as part of ongoing efforts to manage the population.
Wild boars, which are native to Singapore, can weigh up to 100 kilograms and have a lifespan of over 20 years, according to NParks. While omnivorous, they primarily consume seeds, tubers, and young plants. The animals can reproduce up to twice a year, giving birth to litters of four to 12 piglets. NParks has stated that human feeding can result in larger litters of eight to 16 piglets due to the nutritional content of the food. Urban stimuli such as bright lights and loud noises can also cause the boars to become aggressive.
Recent attacks in Bukit Panjang have highlighted the urgency of addressing the issue. In May, a woman was hospitalized after being attacked by a wild boar at a bus stop along Bukit Panjang Road. The animal had to be euthanized due to two broken hind legs. Another incident occurred on June 1 when a 40-year-old man, walking his dog in Zhenghua Nature Park, was bitten by a boar, requiring more than 20 stitches.
Including these two attacks, NParks has dealt with three wild boar incidents thus far in June. To complement existing measures such as culling and reducing the availability of food sources, NParks has identified key access points between forested areas and Zhenghua Nature Park, which include Gali Batu Flyover, the Bangkit underpass, and Chestnut Avenue. These areas have been chosen due to their narrow width, making them ideal locations for implementing barriers.
The fences under Gali Batu Flyover will be 1.8 meters high, featuring PVC pipes at the base to allow smaller animals to pass through. Meanwhile, the fences along Chestnut Avenue and the Bangkit underpass will be approximately 1 meter tall. Ryan Lee, NParks' group director of Wildlife Management, explained that the design of the fencing incorporates either gaps at the bottom to facilitate the crossing of small animals or cattle grids to prevent wild boars from entering while still allowing other animals to move between forested areas.
The use of cattle grids in residential areas on the mainland is a first, as they were previously only installed in Pulau Ubin in 2021.
During a visit to Zhenghua Nature Park, Senior Minister of State for National Development and Communications & Information, Tan Kiat How, emphasized the priority of public safety, stating, "We are taking a proactive science-based approach to manage this." He also mentioned the collaborative efforts with grassroots advisors and leaders to raise awareness among residents about encountering wild boars and how to respond to such situations.
Members of Parliament Edward Chia (Holland-Bukit Timah) and Liang Eng Hwa (Bukit Panjang) were also present during the visit. MP Liang expressed his commitment to strengthening enforcement actions and surveillance to prevent people from feeding the boars. He provided an update on the conditions of the two attacked residents, stating that their conditions had stabilized, although the woman from the earlier incident required additional time for rehabilitation.
MP Liang emphasized the shared goal of ensuring resident safety and minimizing the risk of animals entering residential areas. He expressed satisfaction with NParks' agreement to prioritize residents' safety and monitor the effectiveness of the implemented measures. The ultimate aim is to create a safe environment for all residents by significantly reducing the risk of encounters with wild boars.
---
Follow our BukitPanjanginSG page on FaceBook
---
Read also: 8 Wild Boars Trapped in Bukit Panjang Since May 2023 Following Recent Wild Boar Attack in Zhenghua Park